Green Initiative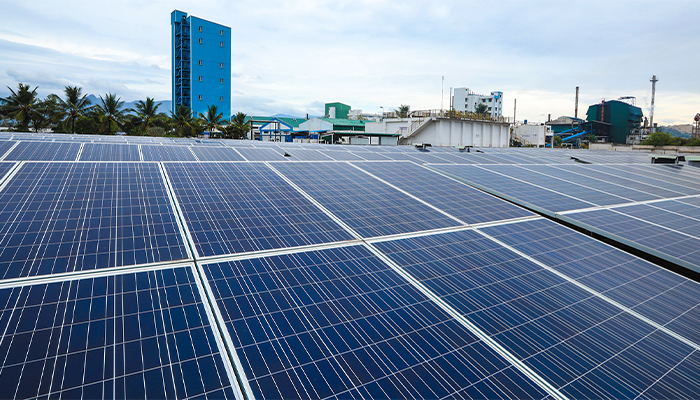 At Tata Coffee, we believe in the power of green! From cultivation practices to pest management, we have always strived for sustainability with an aim to go green. To further this cause, our Theni factory plant is undertaking measures that range from switching to renewable energy sources, reducing water consumption and more! Curious? Here's a glimpse into the Green Initiative by Tata Coffee:
Winds of change(Wind power):​

Having previously had to source electricity from the TNEB grid, we saw a sharp increase in captive power generation, leading to excessive carbon emissions. This was identified as a matter of concern in our mission to sustainability, resulting in the switch over to renewable wind energy! Now, around 81% of our energy consumption is from renewable resources, i.e. wind power and solar power.

 Shining on with the Sun(Solar Power):

Our Theni plant boasts of a stunning solar plant, a much cleaner source of energy to power our equipment! We also ensure that minimum energy is utilized for our operations with around 200KW being used for spray dried coffee and the remaining used for freeze dried coffee plants. In addition, we ensure to make use of solar lights as well as embrace natural sunlight in the building whenever possible!

 Reducing water consumption:

Statistics show that by 2025, about two thirds of the world will be living in water stressed regions! To combat the alarming rate of water depletion in the world, our Green Initiative takes measures to reduce water consumption by:

Reduction of raw water consumption
Increase usage of recycled water
RO water Recycle Efficiency improved by more than 70%
Reduce TDS(Total dissolved solids) or impurities in the water in the Cooling Tower from 500ppm to 250 ppm

 Reduced consumption of fossil fuels:

Fossil fuels, such as oil, gas and coal are non-renewable. Besides being an exhaustible source of energy, these fossil fuels release a lot of toxic gases when burned that do nothing but add to the existing air pollution.

To tackle this, we substituted the coal in our boilers with spent ground coffee and other waste generated from instant coffee processing. Added bonus: Besides reducing the release of toxic fumes, this also is effective in biomass waste management!
Through our Green Initiative, we aim to do our bit in protecting an environment that we take from in abundance. We urge everyone to do the same, take a step back and be mindful of the environment that we need only say thanks to!