Curated from the best plantations
Curated from the best plantations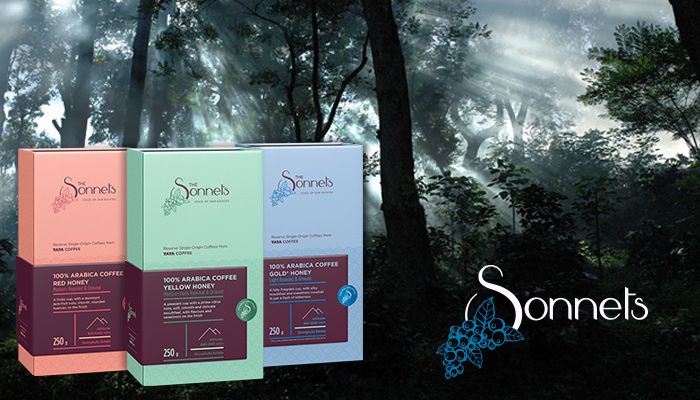 In the world of poems, every sonnet stands out for their profound depth and lyricism. And in the world of coffee, every Arabica stands out for its unique aroma and flavour. We took the finest of Arabicas and created a poetic ode, rightfully named as "Sonnets". It is not the result of an overnight vision, but a constant thrive lasting more than years. An achievement we believe our entire Tata Coffee family deserves the credit to. Today, let's take a tour of our estates Woshully and Goorghully, where the Sonnets come from.
Woshully in Kannada means "new village". The estate founded in the 1860s is blessed with a network of valleys, natural springs and streams which drain into twenty irrigation tanks during monsoon, enabling the estate to meet its irrigation needs. The nurturing shade cover provided by a mix of various indigenous flora such as Rose Wood, Jack fruit, Syzigium, Native Mango, Cedrela(Red cedar), Silk cotton provides ideal growth conditions. Emphasis on ecofriendly and sustainable farming has lead to commissioning of the state-of-the-art eco-pulper designed and supplied by Penagos (Columbia). Not just that, two plantation trails and a cottage set in colonial style are situated within the picturesque estate. Visiting guests are welcomed with splendid hospitality and also treated to an enthralling trip through the estate and its aquatic ecosystems.
Coffee cultivation in the Goorghully estate began by the end of the 1940s. With a wide variety of flora and fauna comprising of several species like Halasu, Beete, Atthi, Leopard, Bison and Chital, Goorghully is an essential habitat we take utmost care to preserve. We focus on improving the living conditions of the estate workforce through various initiatives. And our CSR programs are closely associated with local schools to impart environmental-related awareness. Quality department at Kushalnagar categorized 80% of Arabica from here as a "Speciality".
There is a rich heritage behind every cup and our estates are the gifted poets which enable us to bring you "Sonnets", a best-in-class premium brand of coffee from the world-renowned estates of Tata Coffee. Sip a cup of poetry, sip a cup of Sonnets.