The Land of New Beginnings
The Land of New Beginnings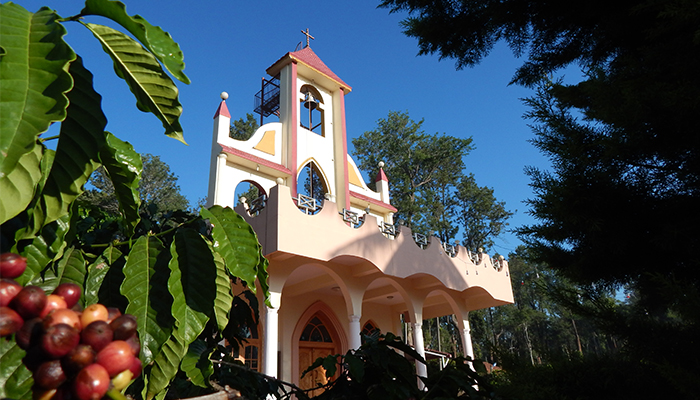 Anandapur Estate is the only estate that was originally planted by German planters. It is also the birthplace of Christianity in Coorg with a church being a built in 1859. 
The Land Of New Beginnings
Rev. Hermann Frederick Mogling, the German missionary turned Kannada literary scholar and the editor of the first Kannada newspaper, "Mangalura Samachara" was all set to return to Germany, when Alamanda Somayya from Coorg met him. Alamanda wanted to convert to Christianity and invited Rev. Hermann to Coorg, offering his land for construction of a church. A modest church was built on Somayya's land. Further in 1857, the administration granted Rev. Mogling 97 acres land to establish a church and a coffee estate settlement.
This was the beginning of the only estate planted by planters of German origin. The bungalow in Anandapur was in 1875 and was home to one more literary figure kettle, the author of the famed English to Kannada, Kettle Dictionary, who stayed here for a few years. 
The estate currently has three divisions namely, Anandapur, Charlote and Pallakere divisions. Charlote and Pallakere divisions are situated next to the Cauvery River and the famous Guyya Agastyeshwara Temple. 
Anandapur Robusta is one of the oldest in the district. As this is the only German estate, the spacing and plant height is different from the other estates in the district. 
Anandapur estate is famous for its Peredenia variety of coffee, which is a source of Peredenia variety material for other planters in and around Pollibetta.
Anandapur Estate
Coorg, Karnataka
Altitude: 880-980 mtr
Area: 420 Hectare 
Terrain: Gently slope/well drained, rich in organic matter, slightly acidic to near neutral in reaction.
Variester of Coffee: Robusta
Strain: Robusta: Peredenia/S274