Rural India Health Project (RIHP), Aligned with Sustainable Development Goal 3 set by the United Nations (Good Health and Well Being for People)
Rural India Health Project (RIHP), Aligned with Sustainable Development Goal 3 set by the United Nations (Good Health and Well Being for People)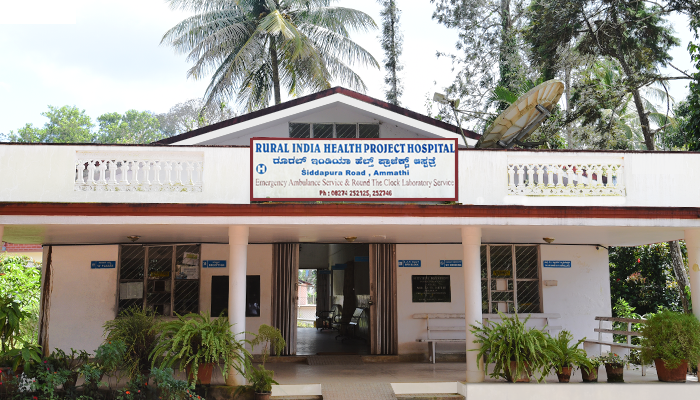 The rural healthcare sector in India has always faced multiple challenges, mainly availability, accessibility, and affordability. A stark increase in population growth, along with rising life expectancy, provides the burden of chronic diseases. As most nations realize the vitality of a robust public health system, India lacks a comprehensive model that isn't subservient to healthcare services.
A Key Initiative
Rural India Health Project (RIHP), Ammathi, Kodagu
Rural India Health Project (RIHP) Hospital at Ammathi Rural India Health Project (RIHP) Hospital situated in Ammathi Village of Kodagu District was established in 1964. Owned by a Charitable Trust, it is presently managed by Tata Coffee Ltd., Pollibetta, Kodagu. With Tata Coffee's administrative and managerial support, the hospital management has improved considerably and the occupancy and utilization levels have shown a healthy upward drift. The vision of the hospital is - to provide the best possible health care facilities round the clock at an affordable cost to the local community by extending the emergency investigations and treatments.
With 20k+ patients treated so far, 57 bedded hospital well-equipped with ultra- modern equipment and facilities, 5 in house Doctors and 23 Medical and Para-medical staff members. Tata Coffee ensures the wellness of coffee farms and communities by innovating in solutions to better farmers' livelihoods and deploying health programs in the coffee landscapes through RIHP. The local community is also educated on hygiene and prevention of illnesses to strengthen the state of primary healthcare. Medical camps are organized to deliver treatments related to ophthalmology, pre and post-natal care, first aid for common accidents and illness.
Setting an example
Good health is essential to sustainable development and the 2030 United Nations Agenda reflects the complexity and interconnectedness of the two. This should be the motto of all the companies in the 21st century. As Chacko Thomas, CEO & MD of Tata Coffee Limited once said, "The outcomes of a healthy community initiative are to improve the health and wellbeing of people within a community and the community itself and access to health care and health education are important parts of a healthy community."
An all-inclusive concept of health marks the impact of the social, economic, psychological and environmental well-being of the community on people's health"
At Tata Coffee, we are dedicated to building a truly sustainable supply chain - from crop to cup, and meeting complex challenges that include climate change, community dynamics, and socioeconomic - political conditions."