So full of mist and morning light
So full of mist and morning light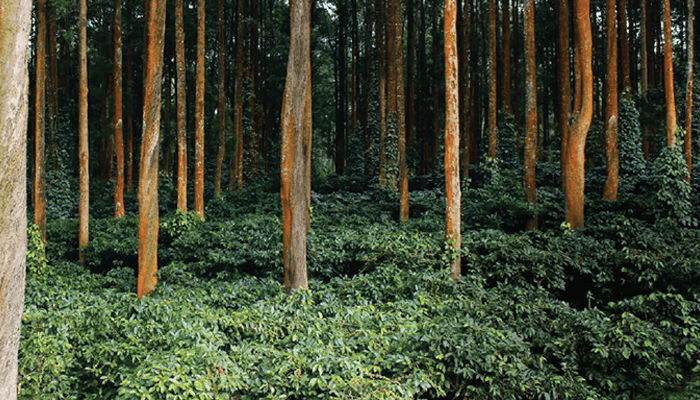 Margolly Estate was planted in the 1850s, by Scottish planters. It is believed that there is a farmland by the name Margolly in Scotland from where they came. Margolly is located amidst the undulating highlands of Southern Coorg. Its vast expanses, spread across plain lands and gentle slopes, encompass an area of over 500 hectares. It is essentially a mixed estate with Arabica, Robusta, oil palm and areas of inter-planted areca nut. One of its divisions, Malagamany Division had around 40 hectares of pure orange growing area and had produced about 20 truckloads of oranges. 
The highlight of the Margolly Estate is its pepper. Pepper is inter-planted in the coffee areas and is grown on every single temporary and permanent shade tree. In fact, due to the high density of pepper, one of the divisions is named as Malagamany meaning the 'house of pepper'. 
The estate grows various strains of Arabica and Robusta coffees with flourish and has the distinction of growing quality Arabicas. Margolly Estate has one of the largest rainwater harvesting tanks to provide water for overhead irrigation and have the effect of replicating natural rainfall that produce an even blossom and, eventually, superior quality beans. This combined with the dense canopy of trees and the robust foliage of towering pepper vines; replicate the cool humid atmosphere of natural evergreen forests thereby producing coffee that has good acidity, balanced flavour and a clean aftertaste.
This arboreal splendour is home to innumerable rare and endangered bird species. Herds of wild elephants from the adjoining Chennangi Reserve forest roam unhindered throughout the estate.