Tata Coffee employees volunteered to create Bangalore first ever community garden
Tata Coffee employees volunteered to create Bangalore's first ever community garden
To sustain local communities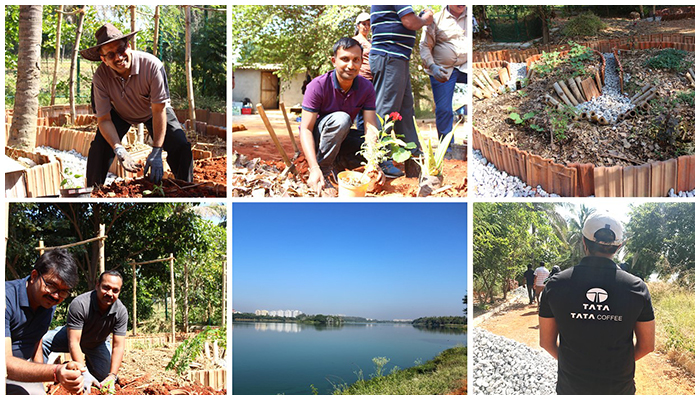 Every year, employees of Tata Coffee participate in the Tata Volunteering Week, undertaking volunteering activities in their local areas. This year, in order to maximize engagement, we came up with a "Selfie Cricket" competition. 
To participate, employees were encouraged to click video and photo selfies centered around the theme of sustainability. They did so by being a part of two teams, led by Amit Pant, SVP Marketing and Sales and Priyanka Gidwani, VP HR. Each video selfie would get the team 6 runs and each photo selfie would get the team 1 run.
The competition commenced 10 days before the finale event in the first week of November'18, where Volunteers worked on the Earth Garden, an existing raised bed garden composed of materials found in and around the lake. They used the excess biomass (water hyacinth - otherwise treated as a nuisance and waste product, or dry reeds - otherwise left to decompose on the banks) to build soil and as a model way of creating a closed loop system within an urban context; with all materials coming from the lake itself.  
 
The outcome was highly encouraging, with over 50 employees participating alongside Jakkur lake. The community garden created will be managed by local women self-help groups and provide sustenance to local fisherwomen for over a year. The earth garden created would be enough to feed 3 families, not including the fruit trees and other edibles growing in the Forest Garden nearby. Volunteers focused on planting and sowing primarily native, perennial vegetables and greens. The fisher people, as well as the women who come to work at the lake would be the primary stakeholders - benefitting the most from the fresh, chemical-free produce grown there. The garden would not only provide sustenance but also strengthen community relations and bring together a range of people to take care of the garden together.
Tata Coffee's Team Digital managed the selfie cricket contest, while the CSR team managed the finale event with Ananas – a local collective engaged in restoring ecological balance.