A town so quaint and serene
A town so quaint and serene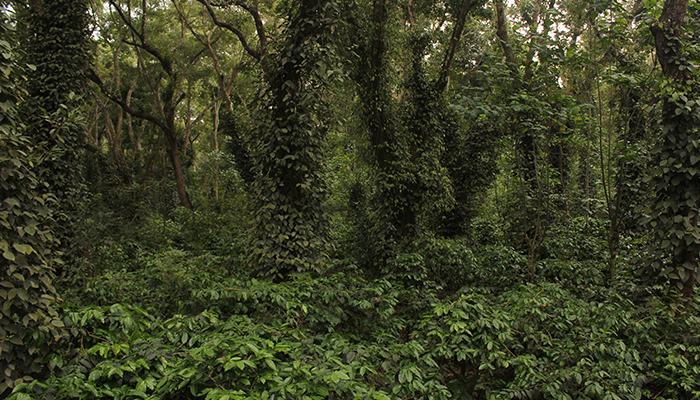 Where the dewdrops spread the light into a million colours. 
Between Madikere and Kushalnagar lies the quaint estate town of Sunticappa and the Sunticoppa estate. This town is strategically situated along the Mysore BC road state highway, making it convenient to reach major towns in Kodagu district like Madikeri, Kushalnagar etc. 
In the days gone by, the town of Sunticoppa was known as the "Chundekad Thota" among the workers and residents of Sunticoppa town. It is believed that this area was once full of thorny jungle growth called 'chunde'. This estate borders 'Devarakadoo'which are protected areas of the village, at two locations. 
The estate has a wide range of native shade trees, which provides the required shade for coffee. The thick foliage is home to many birds like the Malabar hornbill, Racket tailed drango, spotted dove etc. One can also spot wild boars and barking deer here. 
Swastha – a school for special education and rehabilitation is located in the estate and an area of land donated by Tata Coffee. Swastha is run by the Coorg foundation, which in turn is funded by Tata Coffee. 
Sunticoppa Estate
Coorg, Karnataka
Altitude : 900 – 1020 mtr
Area : 230 hectares
Terrain : Moderate to steep slopes/deep, friable, rich in organic matter slightly acidic in reaction. 
Varieties of Coffee : Arabica
Strain : Arabica S 795, S 4345, S 5B, HDT X Catuai, Chandragiri.